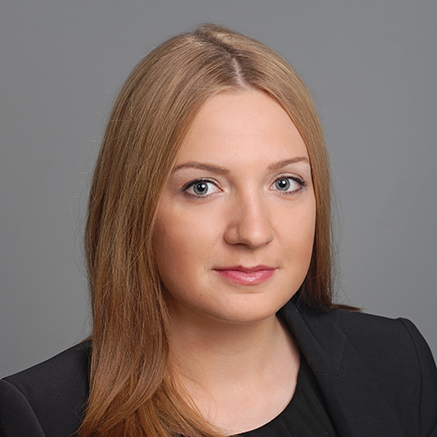 Alicja Hłond is an advocate specializing in labor law and civil law. She provides ongoing advisory to corporate clients, drafts employment contracts, civil law agreements as well as corporate by-laws and deeds along with participating in employment restructuring and employee redundancies. She makes labor law, social security law and immigration law analyses. She also prepares, evaluates and negotiates a number of business contracts along with regulations of appreciation programs and competitions.
She has acquired her professional experience in law firms as well as in the in-house legal department of a company she has worked for.
Alicja Hłond is a graduate of the Law and Administration Faculty at the Adam Mickiewicz University in Poznań. In 2019, she completed advocated legal training and was registered as an advocate at the District Bar Association in Poznań. She has completed training in tax law. She is now attending classes at the Szkoła Praw Własności Intelektualnej (Intellectual Property School) run by the H. Grocjusz Intellectual Property Center in Warsaw. 
In her spare time she travels, watches films and broadens her knowledge of the intellectual property law.